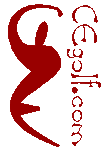 How To Improve Your Golf Game
You've probably tried just about everything to improve, but to no avail. New clubs don't help, nor do golf instructors. The reason new clubs don't help is obvious, unless you're really gullible and believe every ad you see. Golf instruction doesn't help because few Golf Professionals have more than a very basic, minimalistic training in how to teach a golf swing.
You can turn the odds in your favor, which is what I try to do with this website. I discuss how to practice properly, how to learn a golf swing, and how to find a qualified instructor, among many other topics.
There are many pages covering golf improvement and golf instruction topics, as you can see by hovering over the navigation menu to the left of each page. If you aren't using a mouse, click on a category heading and you'll go to an index that has links, with descriptions, to the pages of that category.
Casey Eberting Golf Instruction
Houston, Texas
©Copyright 1997-2017, All Rights Reserved