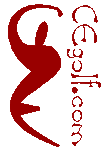 Where Can You Find
A Good Golf Instructor?
First, I want to point out that most golfers don't need the services of a highly skilled golf instructor so this page is only relevant to those golfers who want significant golf improvement and are willing to put in the work to achieve it.
There are two basic types of golf instructor, the Club Professional and the Teaching Professional. A generalized recommendation is that because Teaching Professionals specialize in teaching the golf swing, they will tend to be better instructors, but this isn't always the case. When searching for a new instructor, always inquire about their background and ask them what they teach. As for the type of facility where one might find a highly skilled golf instructor, a general rule of thumb would be (because these are just general rules, there will be many exceptions):
A) Private Country Clubs—A Club Professional's primary responsibility is to manage the golf shop and golf course, and to provide for a large variety of member's golfing needs. The Assistant Professionals are there, obviously, to assist the Club Professional and learn the trade of running a golf shop and course. Rarely do the Club Professional or Assistants have time for, access to, or the desire to acquire the intensive training necessary to be a top notch golf instructor. Some private clubs go above and beyond by providing the services of a Teaching Professional, but just because someone teaches for a living doesn't guarantee that they are a superior instructor. As always, ask them about their background, training, and golf swing knowledge to see if that instructor will be acceptable for you.
B) Practice Facilities (Driving Ranges)—almost all Practice facilities have full and part time golf instructors available for instruction. In general, the best instructors prefer to teach at upscale courses but there are exceptions and it is possible to find excellent instructors at some of the better practice facilities.
C) Resorts and upscale Public Courses—public courses generally won't have skilled golf instructors. However, some upscale public courses and some resorts may have good instructors.
Remember, wherever you look for instruction, ask your potential instructor about their background and what it is that makes them a good instructor!
Casey Eberting Golf Instruction
Tulsa / Broken Arrow, Oklahoma
©Copyright 1997-2021, All Rights Reserved