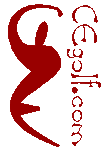 Professional Golf Swing
Instruction - Mequon / Milwaukee, Wisconsin
The most important aspect of a golf swing is how a golfer gets to, and through, impact. Amazingly, most instructors don't teach this part of the swing. Instead, they hope that by working on address, backswing, and follow through, the golfer will somehow figure out how to hit the ball.
I am very knowledgeable about this crucial part of the swing and it is a major focus of my instruction as this is the area of the swing where golf improvement comes from. The swing types I teach are categorized below and are based on the different ways to swing through this critical area.
Each swing type is based on swings of the world's all time best ball strikers. That's why I call this instruction offering Professional Golf Swing Instruction. Your current golf swing and your improvement goals will be a primary consideration, as will any swing choice you prefer. Because I have the knowledge and experience to use a variety of swing types, you have a much greater chance to improve!
The Full Story
I break the golf swings I teach into five basic categories, or swing types. There are a few more, but these five are the main swings that the best players use (I also offer two types of Ben Hogan instruction, but these are separate instruction offering). My categories below may not have much meaning for you since you are probably unaware of the variety of ways a golfer can swing through impact, so I've included some golfers as examples.
The Flip and Hold category is the category most of the best ball strikers fall into, and it is the swing most students should want to learn if they are serious about improving. This swing can be very powerful, depending on how it is applied, but accuracy is the most important quality. In the Flip and Hold and Closed to Square swing types there can be quite a bit of swing variability within each category, as can be seen by the swing examples.
Flip And Hold swing: Jack Nicklaus's swing was the most pure, overall, of this swing style, but Tiger's short iron swing was actually best (almost Hogan like). Tiger doesn't get best overall because his harder swings are a different swing type that makes it impossible to have good control. Jason Day is not in the same league, but is similar to Tiger in that his short iron swings are very good, but his harder swings are different. He does have a better hard swing than Tiger. Bubba Watson, Jordan Spieth, and Jim Furyk are also in this category, although each has their own unique way of doing it. Rickie Fowler began transitioning into this category in late 2014, but his backswing plane is too flat to work well with this forward swing. I could put Moe Norman in this group also, but his swing is unique enough to have its own classification.
Moe Norman (Natural Golf) swing: This is a great swing for amateurs because it is very consistent and simple, but I don't recommend it for aspiring professionals as it isn't powerful enough to be competitive among top golfers. See my Moe Norman page.
Pure Rotational swing (not the Rotary Golf swing): used by major championship winners Zach Johnson, Paul Azinger, and David Duval, great for its simplicity and effectiveness. Not necessarily a swing you try to learn, but if you already swing with this style, perfect and refine it to become a very good player!
Closed to Square swing: Dustin Johnson, Brooks Koepka, Lee Trevino, and Graeme McDowell are examples of golfers who use this type of swing. When done correctly, this swing type can produce the feeling that the clubhead stays square to the ball all the way back and forward to impact. It's as if the clubface is locked onto a track and can't get off. For this reason, it can be incredibly consistent when done correctly.
Arm Roll swing is the fifth category, and I prefer not teaching it because it is by far the least consistent swing of the five swing types. This is the swing motion that most instructors incorrectly call a release. Because it is a marginally acceptable way to swing, I'll help a golfer who already swings this way shore up their swing and make it work as well as possible, but I will recommend they consider doing what Rickie Fowler did and switch from this to a better ball striking swing style. All of the examples in this category have to rely on exceptional short games rather than on great ball striking ability! Golfers in this category include Phil Mickelson, an excellent golfer because of his short game and trouble shots, pre-2015 Rickie Fowler, Tiger and Jason Day hard swings. None of the golfers who use this swing type are consistently good ball strikers (Tiger and Jason use a different swing type for their short irons so that part of their ball striking is actually quite good).
For details and format information regarding my Professional Golf Swing Instruction at the River Club of Mequon, please click on the following link:
Casey Eberting Golf Instruction
River Club of Mequon
12400 N Ville du Parc Dr
Mequon (Milwaukee), Wisconsin 53092
©Copyright 1997-2019, All Rights Reserved