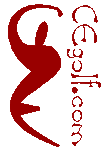 Professional Golf Swing
Instruction Format And Details
In 2018 I moved to Broken Arrow (Tulsa), OK, and am now semi-retired from teaching. However, I will be giving a few lessons with my Hogan instruction, but not this Professional Golf Swing instruction option. I may teach more in the future, which is why I have these instruction pages up still.
This page is just about the details of my Professional Golf Swing Instruction swing options. I also offer Ben Hogan swing instruction, but that is in another section.
The format of my golf instruction is simple. For a first lesson, except the half hour option, we'll talk about your golf background, goals, how you practice, etc. Then I'll watch you swing as you hit some balls into a net and we'll discuss what I see and what I feel your best options are—I teach five different swing styles, not counting the Hogan swing. We'll spend the rest of the lesson developing your understanding of the swing concept you will be learning through discussion and slow motion swings, which we'll gradually increase in speed.
The purpose of these golf lessons is to develop your understanding of the swing motion. Once you have a good understanding of what needs to be done, then your body can begin to learn the movement during your practice sessions. It's very important for you to realize that you can't learn to make a correct swing motion (physically) during a lesson, regardless of who you get your golf instruction from! It's learned gradually through practice as motor memory (muscle memory) is developed.
For those who would like to work with me regarding my Ben Hogan instruction, I'll be teaching a little at my house in Broken Arrow. I don't have any connections in the area so acquiring part time teaching privileges at a local club is unlikely. FYI: I know offering instruction this way may seem strange to many, but even when I am teaching at a club, my Hogan instruction is exactly the same—it's just a much more effective way to teach.
While the main benefit of teaching indoors is that it is an optimal setting for learning, two other important benefits are that instruction doesn't have to be canceled due to inclement weather and the temperature is always comfortable.
Fees and Length of Instruction Session*
1/2 hour - $75
1 hour - $125
2 hour - $250
3 hour - $350
4 hour - $450
To e-mail me your interest in my Professional Golf Swing Instruction, please click on the following link:
Sorry, I don't accept credit cards so payment must be by cash or check (personal checks made out to Casey Eberting are fine). People coming from foreign countries and/or those who do not have a US bank account will need to pay in cash-US dollars. Prices are subject to change without notice.
Casey Eberting Golf Instruction
Tulsa / Broken Arrow, Oklahoma
©Copyright 1997-2018, All Rights Reserved