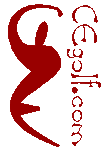 Video Golf Lesson by MailTM
Golf Swing Evaluation or Professional Golf Swing Instruction
This Video Golf Lesson by Mail option is available to anyone interested in an in-depth Golf Swing Evaluation or my Professional Golf Swing Instruction option (My Hogan Video Lesson option is separate from this offering).
The Swing Evaluation can be used for more than just an evaluation, it can also be used as a second opinion for your current instruction.
The Professional Golf Swing Instruction video option is essentially a long distance private lesson in which you get instruction relevant to your swing. If you've had previous golf instruction from me, then feedback about the changes you've been making will also be included.
The obvious advantage of the Video Golf Lesson by Mail is that it is much more convenient and much less expensive for those who otherwise would have to travel to work with me. You'll also find that it is much more detailed than the typical golf lessons you're used to.
For more specific information on these video options, please click on the following link:
What To Do For A Swing Evaluation or Professional Golf Swing Instruction Video By Mail
Casey Eberting Golf Instruction
River Club of Mequon
12400 N Ville du Parc Dr
Mequon (Milwaukee), Wisconsin 53092
©Copyright 1997-2018, All Rights Reserved