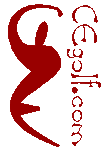 Information For My Students
Chapter heading pages such as this are an alternative way of navigating the site for those who aren't using pointing devices that allow hovering over the navigation bar on the left.
I created this chapter for my clients, but I encourage everyone to look through these few short pages. It's regarding how best to improve.
Your First Instincts Are Wrong!
Thoughts on Ben Hogan's statement that your first swing instincts are wrong.

After A Golf Lesson Will You Be Able To Swing The Way You're Supposed to?
This is the biggest mistake you'll make regarding golf instruction.

Stay Focused
If you want to improve as quickly as possible, you'll need to stay very focused.

Patience
If you want to become a better golfer, you'll need patience.

Cycling
This is how you do it if you want serious improvement.

Confusion On The Range
After a lesson, expect to be confused, but don't let it beat you.

Practice Swings Are How You Learn
How to get the most out of your practice.
Web site contents—descriptions and links to the varied topics at CEgolf.com
Casey Eberting Golf Instruction
Tulsa / Broken Arrow, Oklahoma
©Copyright 1997-2021, All Rights Reserved