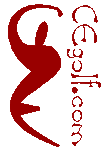 Pictures and Discussion
of The Golf Swing
Chapter heading pages such as this are an alternative way of navigating the site for those who aren't using pointing devices that allow hovering over the navigation bar on the left.
The Upright Golf Swing And The Block
The upright golf swing is commonly taught, but unless you are very coordinated it can hurt your golf game.

The Steep Downswing
Why the upright golf swing can be so bad.

Over-The-Top
An Over-the-top move is a common result of a steep forward swing plane.

The Follow Through
Where you end up tells a lot about how you arrived there.

The Right Elbow
The right elbow can make or break your swing.

The Inside Path To Higher Scores
Getting the club inside during the backswing is BAD!
Web site contents—descriptions and links to the varied topics at CEgolf.com
Casey Eberting Golf Instruction
Tulsa / Broken Arrow, Oklahoma
©Copyright 1997-2021, All Rights Reserved