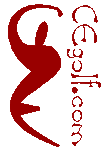 What You Should Know About
Golf Schools And Golf Lessons
Chapter heading pages such as this are an alternative way of navigating the site for those who aren't using pointing devices that allow hovering over the navigation bar on the left.
Who Should Take Golf Lessons?
Anyone who will ever take a golf lesson should read this page, plus a special note for beginning golfers.

About Golf Lessons
What is a good golf lesson.

How To Get The Most From Golf Instruction
Things you should do during and after a golf lesson.

Laws Of The Golf Lesson
Some rules for you to follow that will make your golf lessons more effective.

Don't Take That Golf Lesson
Some people shouldn't take golf lessons!

Band-aid Golf Instruction
Band-aid golf instruction has its place, but it really won't make you a better golfer.

It's The Manly Thing
Poking some fun at male golfers and why women have the potential to learn faster than men.

Who Are The Skilled Golf Instructors?
There are highly skilled instructors, and then there are those who aren't.

Where Can I Find A Skilled Golf Instructor?
There might be a great instructor at your local driving range or course, or you may have to go quite a distance.

What If I Want, But Can't Find, A Skilled Golf Instructor Nearby
Some advice for those who don't live near a highly skilled instructor.

Should You Attend A Golf School?
Golf Schools have the potential of being nothing more than expensive vacations, be careful.

Golf Schools, What To Know Before You Go
How To Maximize Your Learning At A Golf School.
Web site contents—descriptions and links to the varied topics at CEgolf.com
Casey Eberting Golf Instruction
Tulsa / Broken Arrow, Oklahoma
©Copyright 1997-2021, All Rights Reserved