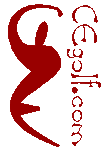 Ben Hogan
Chapter heading pages such as this are an alternative way of navigating the site for those who aren't using pointing devices that allow hovering over the navigation bar on the left.
Ben Hogan
The Man and the Ben Hogan golf swing.

The Golf Swing Plane
Swing plane and the golf swing.

The One Plane Golf Swing
The "One Plane Swing" is not Ben Hogan's golf swing

Golf Swing Fundamentals
Some things you should know about golf swing fundamentals—they aren't quite what you think!

Ben Hogan Golf Swing Fundamentals
A discussion of Hogan's fundamentals.

David Leadbetter's Book "The Fundamentals of Hogan"
A review of Leadbetter's book on Ben Hogan's golf swing.
Web site contents—descriptions and links to the varied topics at CEgolf.com
Casey Eberting Golf Instruction
Tulsa / Broken Arrow, Oklahoma
©Copyright 1997-2021, All Rights Reserved